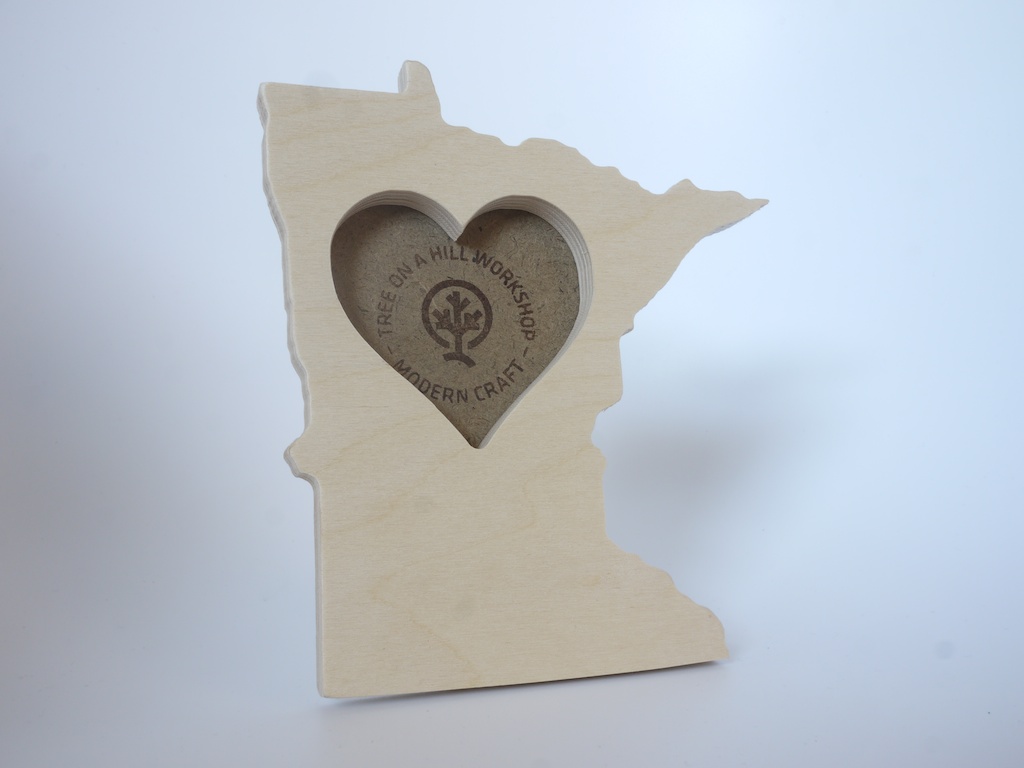 Show off the love of your life or your favorite pet in this handmade picture frame. This frame stands on its own using a unique, integrated kickstand. Made in Minneapolis, the frame is already filled with Minnesota love. Perfect for: Desk Mantle Bedside table This...
I was asked to create a large 2-sided sign for a new local restaurant. I used cedar, a heavy duty steel bracket, the ShopBot CNC router, and half of the other tools in my shop to finish this...
When I started using CNC routers I had a tendency to stay slow with all of my feed rates. What I've learned over the last three years is that in general I was going too slow for the material I was cutting. The main downsides of going too slow are excessive wear...
I was recently asked to engrave into some aluminum sheet. I I have the most experience with wood but I'm never one to turn down the opportunity to learn something new. After three broken bits I think I have a few pieces of wisdom that I can pass on that might...
About 2 years ago I set out to you to figure out a way to make money using my CNC router. 2 Years later not only have I found my ShopBot CNC a very useful tool for my home-based business, but because of repeat business and good word of mouth growth I am happy to say...
I've been branching out a bit from my CNC router use in woodworking and into some heavy metal. Besides Floor and Pallbearer, I'm also talking about aluminum and brass. I've made a few brass branding irons. I used standard woodworking v-bits with good...
I was recently asked to create a pair of commemorative plaques. Essentially something like a diploma or other certificate, except these were to be carved into wood. No problem, right? I had carved plenty of signs before. Well, the difference here was the scale of the...
When we think of CNC routers and their capabilities we often go right to the feats of complexity and precision. Impossible inlays, hundreds of exact copies of parts, complex shaping and carving, and perfect joints but not everything you use your bot for needs to be so...
After you've been using a CNC router for a while, you begin to look for ways to make your life even easier (as if having a robot do work for you wasn't making it easy enough). For me, sanding is a necessary evil. Plywood is especially prone to fuzzy edges...
CNC routers need bits. They determine the kind of carving you can do, the resolution of your finished designs, and how fast you can move through the material. They come with cutting edges that pull up or push down (sometimes both), they have square or shaped ends,...
I was recently asked to build a tiki head statue for a local restaurant. The lure of rum soaked drinks made the job hard to turn down. I figured my recently acquired CNC router made the task possible for me since I have no formal sculpture training. As with most...
Being a tinkerer, my wife often tries to surprise me with tools for gifts. Last Christmas she bought what has become my #1 favorite tool to use when working at the 4×8 CNC router. This nifty Rockwell Sonicrafter multitool is great for lots of oddball jobs where...
I had the opportunity to visit ShopBot headquarters a few months back. While chatting with their training master TJ, he bragged about his great big 2.5 inch fly cutter bit. I have to admit I was envious. My bit was half the size. I finally had the opportunity to pick...